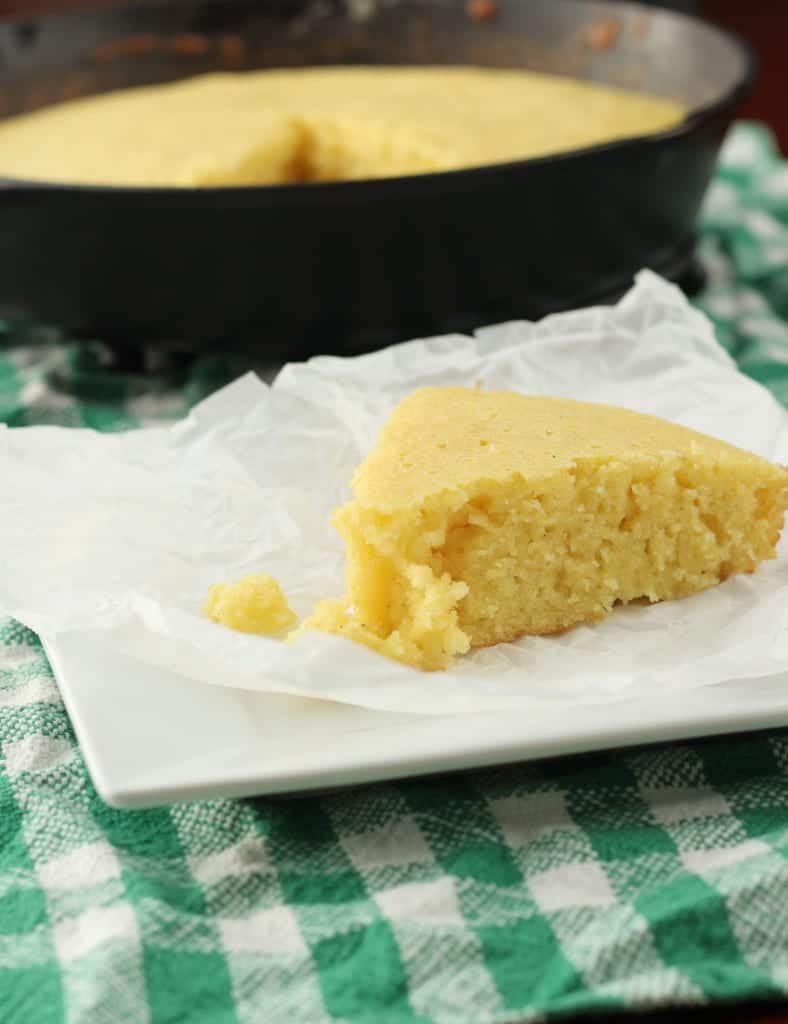 WARNING! This cornbread recipe is not from any sort of heritage cookbook, heirloom family recipe, or historical source; however, I taste-tested dozens of recipes to find a cornbread recipe with the perfect texture, level of sweetness and overall flavor. This recipe knocks my socks off. It trumped my delicious family recipe (which I will give to you at a later date). My only regret about this recipe is that I didn't write down where I got it, so whomever created this National Treasure cannot get credit where credit is so clearly due.
If you do not like buttery, sweet(er) cornbread with a velvety texture, then this recipe is not for you. It is all of those things and more. Sometimes I make chili or pulled pork just to feel obligated to make this cornbread (so sad).

 Southern Cornbread
½ cup unsalted butter
2/3 cup sugar
2 eggs
1 cup buttermilk
½ cup cornmeal
1 cup all-purpose flour
½ teaspoon baking soda
½ teaspoon salt
Preheat the oven to 375°. Generously grease an 8" square baking dish or dish of similar size. In this recipe I use butter to grease my dish. I feel nothing else will do.
Melt butter in a large skillet. Remove melted butter from heat and stir in the sugar using a whisk. Quickly add eggs and beat until well blended. Combine buttermilk with baking soda and stir into pan. (Side note: do not make the same mistake I once did and mix these two ingredients before starting to melt butter. The baking soda and acidic buttermilk will react immediately to create CO2, and if mixed too early, you will end up with buttermilk that has doubled in volume and flat cornbread. Tragic.)
Stir in cornmeal, flour and salt until well blended and few lumps remain. Pour in to prepared dish.
Bake 30-40 minutes or until a toothpick inserted into the center comes out clean.
If one is blessed with a medium sized cast-iron skillet, then one could make the whole recipe in that skillet without dirtying any additional dishes! Amazing.
If you are going to limit yourself to just one piece of this buttery, moist American tradition, then you had better make it a big one!
Freezing Leftovers UPDATE: I wrapped my leftover slices immediately after cooling tightly in plastic wrap and then in aluminum foil and sealed that packet inside a plastic freezer bag. Last night I took it out of the freezer after several months, unwrapped the cornbread from the foil and plastic wrap and re-wrapped the slices in parchment paper. I threw the parchement paper packet into the oven at 400° (I was cooking chicken at the same time) and baked it for ~ 10 minutes or until it is warmed through. It was still magically moist!