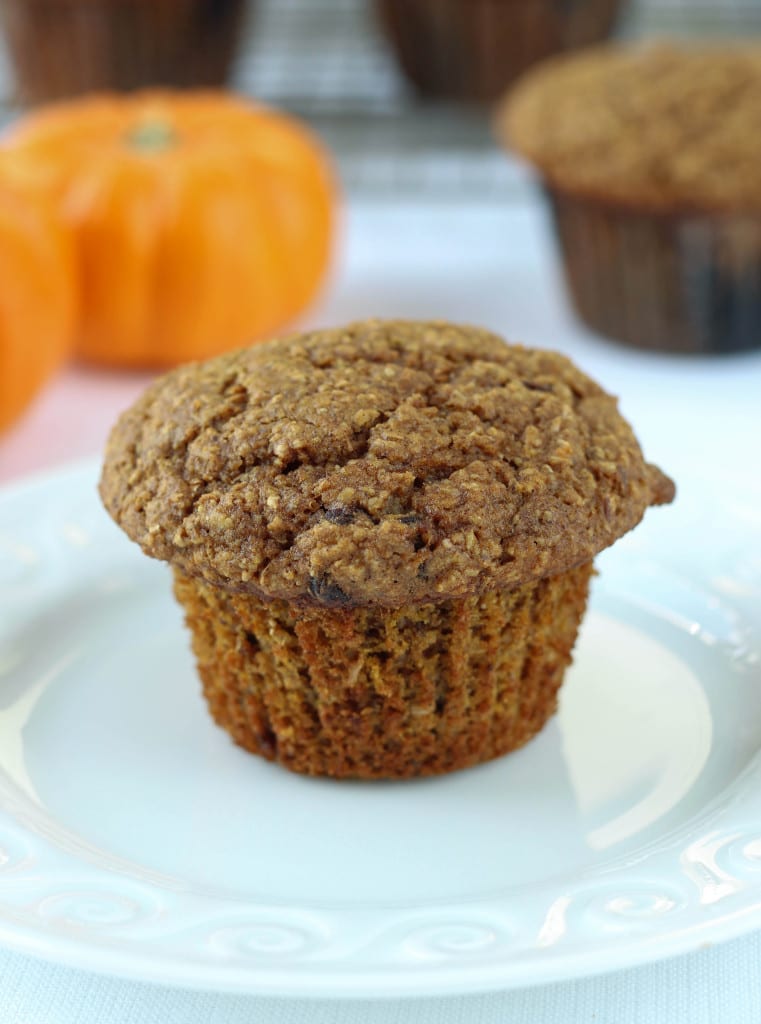 I'm having serious cooking and baking withdrawal. The wedding and our imminent honeymoon (read: we are waking up in Paris today!) aren't leaving much time for my favorite pastime and I find myself staring longingly at the stove. It doesn't help that my refrigerator only has three things in it: butter, yogurt and eggs.
Want…to…bake…something...
Must…resist…temptation…
A few days before I left for our wedding, inspiration (and a strong desire to clear out the fridge) hit me and I whipped up these Pumpkin Banana Bran Muffins. They are moist with a subtle pumpkin flavor punctuated with sweet, plump raisins. Darn good.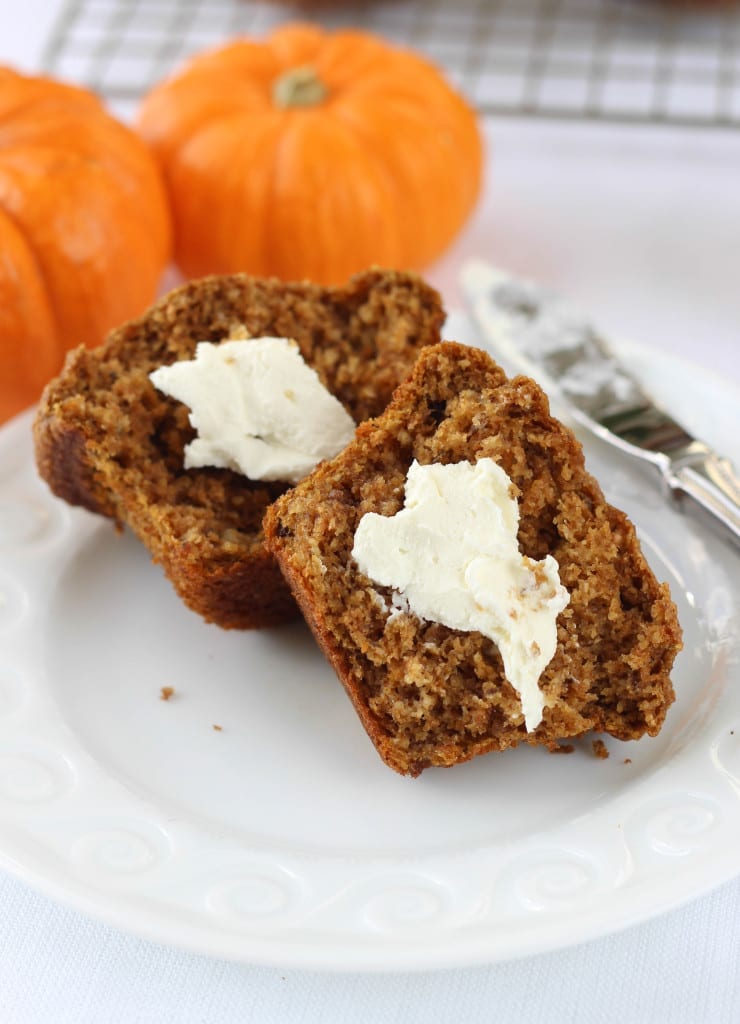 They were the perfect easy morning breakfast for the crazy days leading up to the wedding madness, AND, best of all, they are Wedding Fairy approved. Not that we have to answer to her anymore!
Who decides to plan a 16 day honeymoon in Europe 1 short month before her wedding? [Hint: probably the same person who bakes 400 mini pecan pies for her wedding guests.] But, like the tassies, I am so glad we did!!! It's been years since I've strolled through the streets of Paris and I'm beside myself with the excitement of being able to share one of my favorite places with my new Husband!
Best of all? The Wedding Fairy is not invited! Crêpes, baguettes, fromage, macarons and chocolat here we come!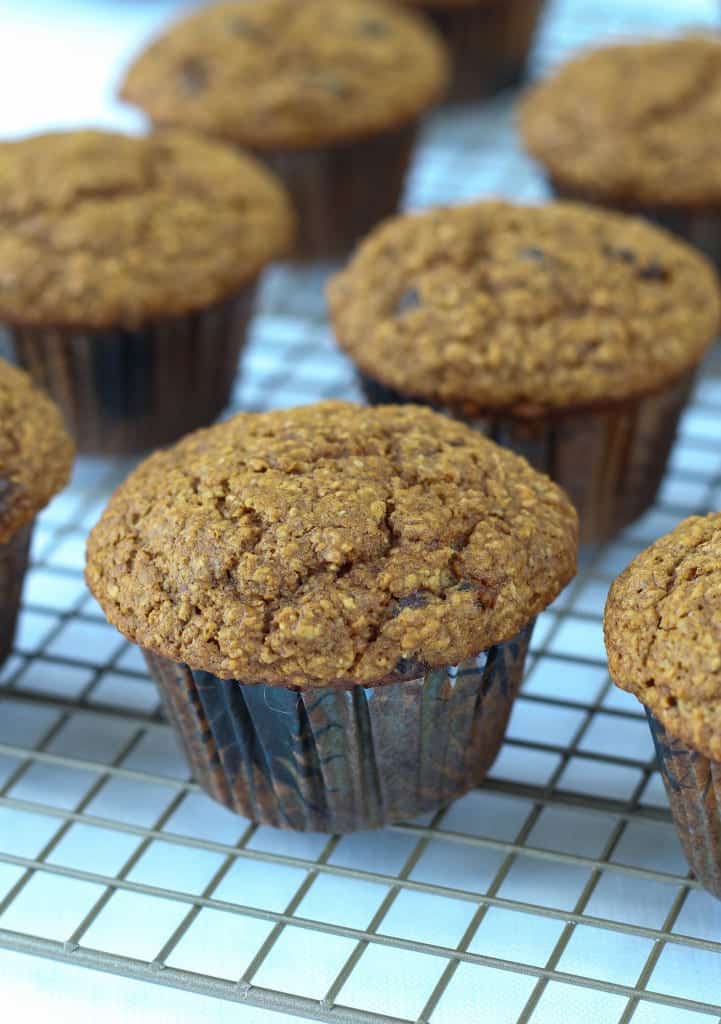 These Pumpkin Banana Bran Muffins are packed with wholesome goodness and flavor! I suggest you follow my lead and slather some cream cheese in the middle. Cream cheese takes these muffins from exceptional to shockingly delicious!
Pumpkin Banana Bran Muffins
These Pumpkin Banana Bran Muffins are moist and healthy! The pumpkin flavor is a perfect twist for Fall and Winter! Packed with two types of bran, flaxseed and more!
Ingredients
1 cup whole wheat flour
¾ cup wheat bran
½ cup oat bran
2 tablespoons ground flaxseed
2 teaspoons cinnamon
¼ teaspoon + 1/8 teaspoon ginger
¼ teaspoon sea salt
1 teaspoon baking soda
1 teaspoon baking powder
1 cup butter milk
1 egg
¼ cup oil
1 large banana, mashed
½ teaspoon vanilla
2/3 cup packed brown sugar
½ cup + 2 tablespoons pumpkin puree (canned is fine)
¾ cup raisins
Instructions
Preheat oven to 400° and grease or line 12 muffin tins.
Mix buttermilk, wheat bran and oat bran in a small bowl and set aside. In a medium bowl combine flour, flaxseed, cinnamon, ginger, salt, baking soda and baking powder and set aside.
Mix sugar, oil, egg, vanilla, banana and pumpkin and mix thoroughly.
Add pumpkin mixture and buttermilk mixture to the dry mixture and stir gently until just combined and a few lumps remain. Fold in raisins.
Pour into prepared tins. Fill the cups all the way to the top to ensure you get nice tall muffins.
Bake 20 minutes or until a toothpick inserted into the center comes out with only a few clinging crumbs.
Notes:
An original recipe by Lindsey @ AHC
https://americanheritagecooking.com/2013/10/pumpkin-banana-bran-muffins/
All images and content are copyright protected. Please do not use my images without prior permission. If you want to republish this recipe, please re-write the recipe in your own words, or link back to this post for the recipe. Thanks!