These dinner rolls are soft and fluffy, and slightly buttery. With these step by step instructions, making perfect dinner rolls will be so easy you'll want them every night!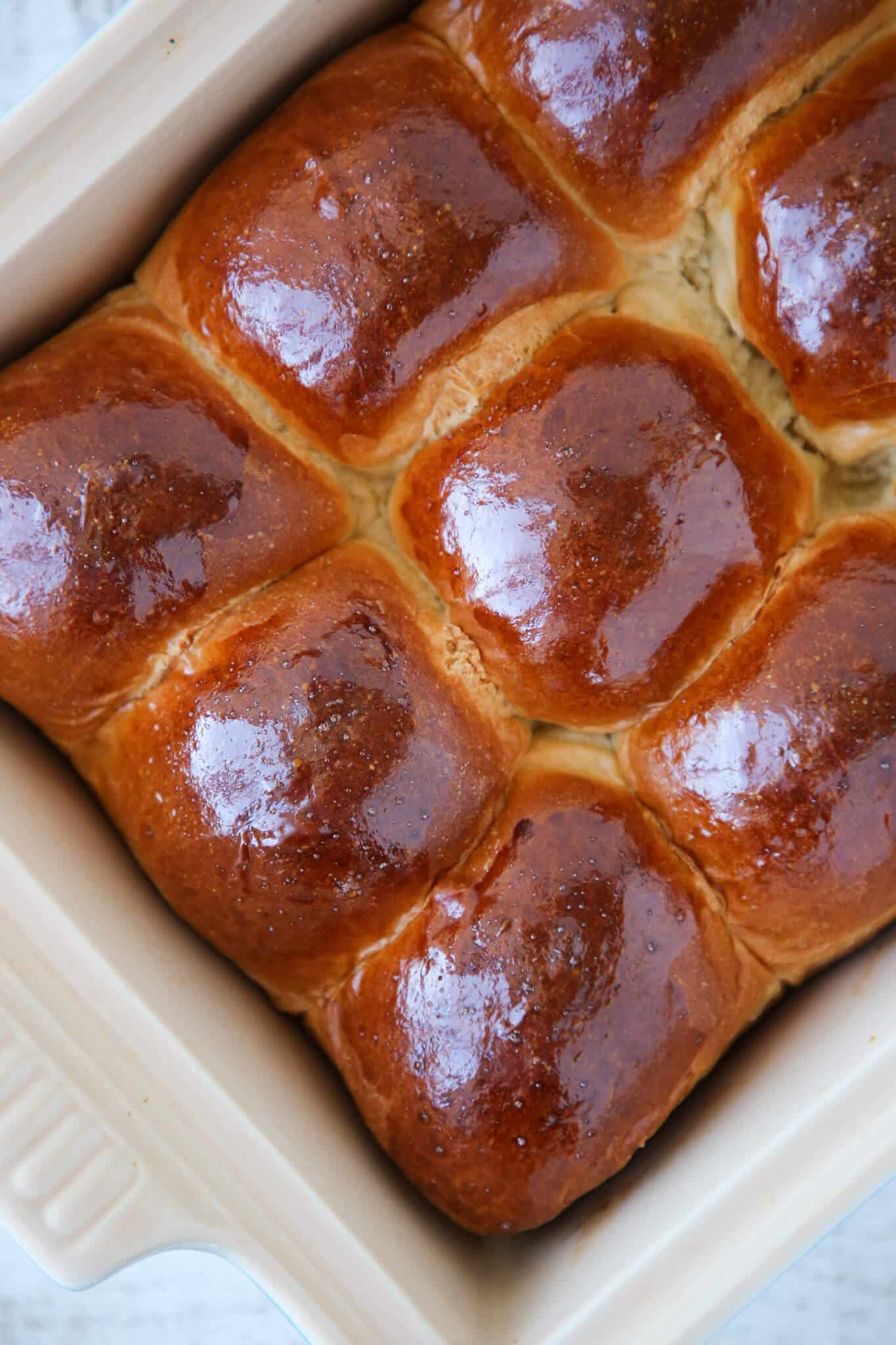 I don't think I have been shy about professing my undying love for bread. Bonus points for a buttery, tender roll. Stack it high with Thanksgiving leftovers, make pulled chicken sliders, slather them with butter and jam...Or! You could just devour these homemade dinner rolls straight from the oven!
Table of Contents
So there have been some big changes happening at CLF! I'm not talking about the site makeover; I'm talking about having my own little bun in the oven. That's right—Hubs and I are expecting a new addition to our family!
I'm a little nervous because making bread is something I know how to do, but babies are a whole other story—I won't wax poetic in each post; after all, you just want the dinner roll recipe. Stay tuned for a journey through all the cravings—some sweet, some savory and others so left field that it's hard to believe they were even made. (Dad, that baseball reference was for you 😘.)
Ingredients for Dinner Rolls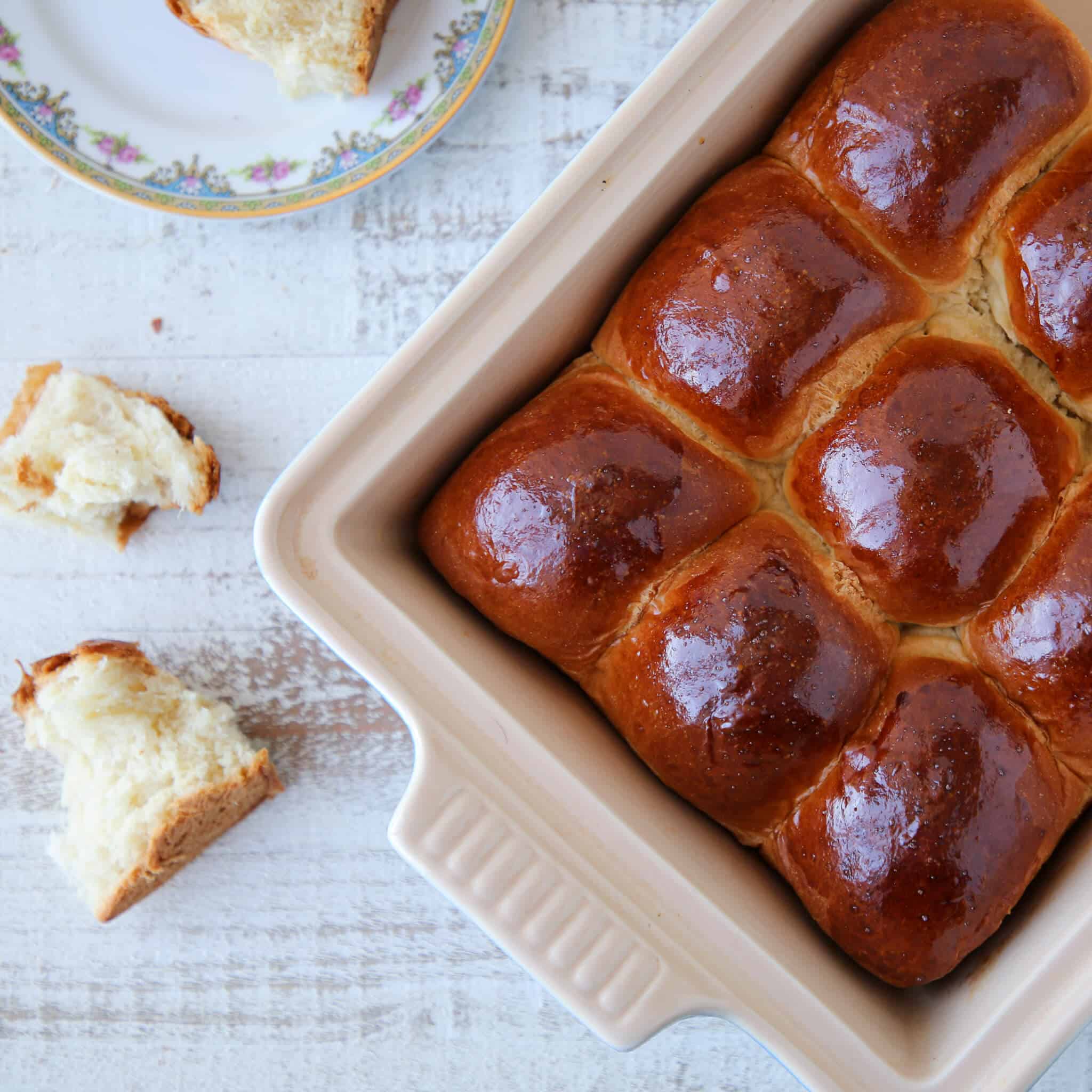 Possible Substitutions for Dinner Rolls
Whole Milk: I prefer baking with whole milk for the flavor and fat, but you could use skim milk, alternative milks or even make this recipe using all water.
All-purpose flour: If you only have bread flour, you can certainly use that instead, but it will take less time to develop the gluten and your final product will be a bit chewier than tender.
Yeast: If you don't have dry active yeast, you can substitute double the weight of fresh yeast or half the weight in instant yeast. If using either fresh or instant yeast, you can add them straight to the batter, but mixing them into the sponge will still kickstart the fermentation and gluten development!
Why Use a Sponge in Dinner Rolls?
A sponge is a bread-making technique where a portion of the flour is combined with the yeast and all of the liquids. In this recipe that is milk and water. The sponge not only activates and gives the yeast time to start fermenting, but also allows the gluten network to begin forming. This decreases the total amount of time you have to mix or knead the bread and will make the whole process faster!
Variations on Standard Dinner Rolls
Loaves: Divide and shape this same recipe into two loaves. Follow my brioche bread recipe for dividing, shaping and baking.
Raisin Bread: You know how I feel about raisin bread! You can add up to a pound (454g) of raisins to the recipe below.
Nut & Fruit Bread: Add any combination of dried fruit or nuts you wish up until one pound.
Citrus: Bring subtle notes of citrus by adding lemon or orange zest to the batter and substitute the water with orange or another flavor of juice!
Spices: Add up to a tablespoon of spice without changing the recipe.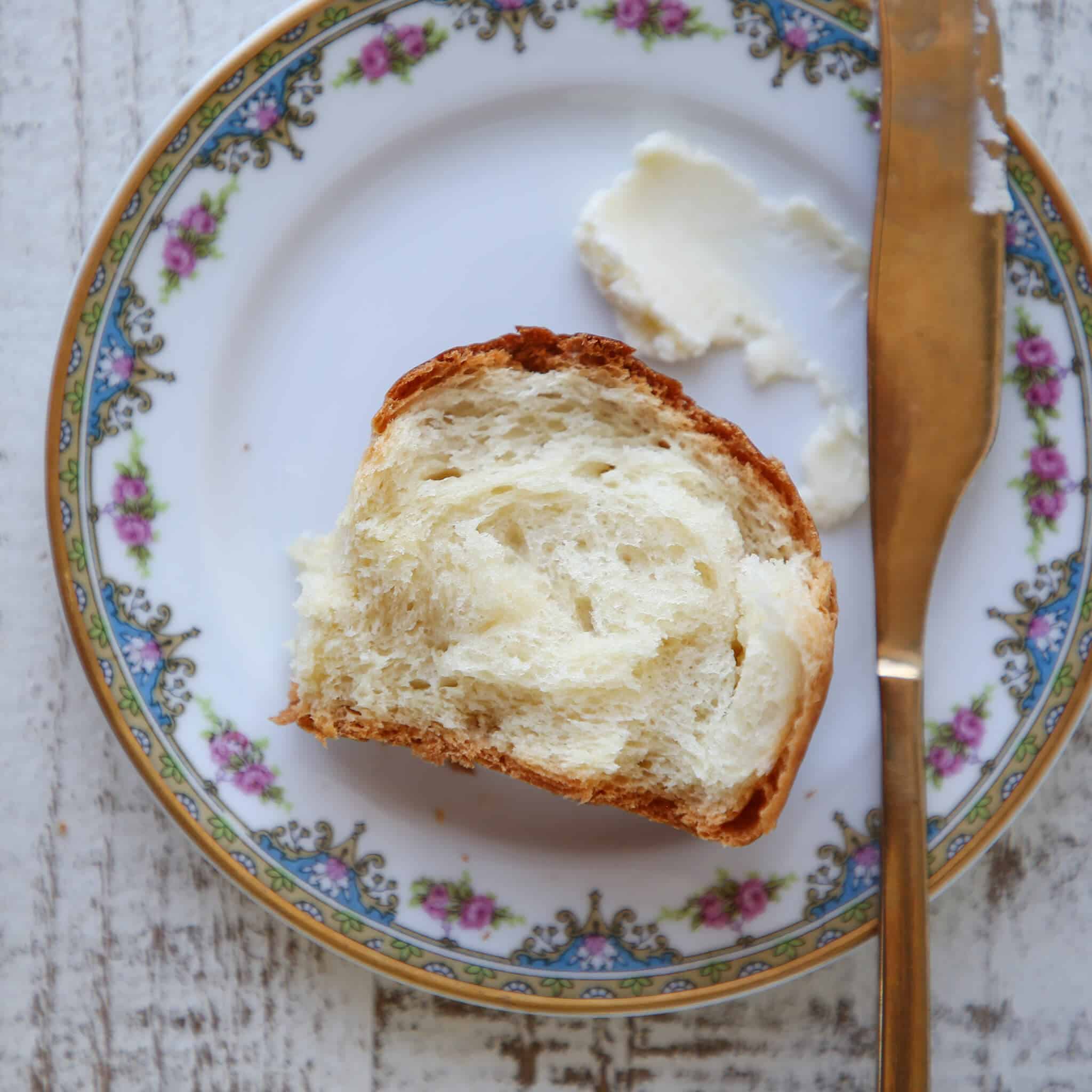 How to Store Rolls
For optimal freshness, consume or freeze within two days.
In the odd event that you have leftovers, left over rolls are also phenomenal in bread pudding! Make it Pumpkin Spice Bread Pudding for the Fall or Lemon Raspberry Bread Pudding in the Summer!
An Easy Alternative Rolls Favorite for Dinner
I have made hundreds of thousands of these potato rolls, and I have taught over twenty people to make them. Truth be told, I used to time myself to see just how fast I could shape them (perfectly, obvi). I got my time down to under 3 seconds per roll shaping with both hands.
These roll are not only an enriched potato roll but they are a BRIOCHE! That's right, an epic amount of butter is worked into the dough to finish. They are basically everything you love about decadent mashed potatoes in bread form.
Pastry Chef Tip
When it comes to baking, I'm a stickler for weighing my ingredients (this is my favorite kitchen scale). Conveniently, since this bread is made with a sponge, I usually scale the remaining ingredients while the sponge is sitting. Efficient use of time for the win.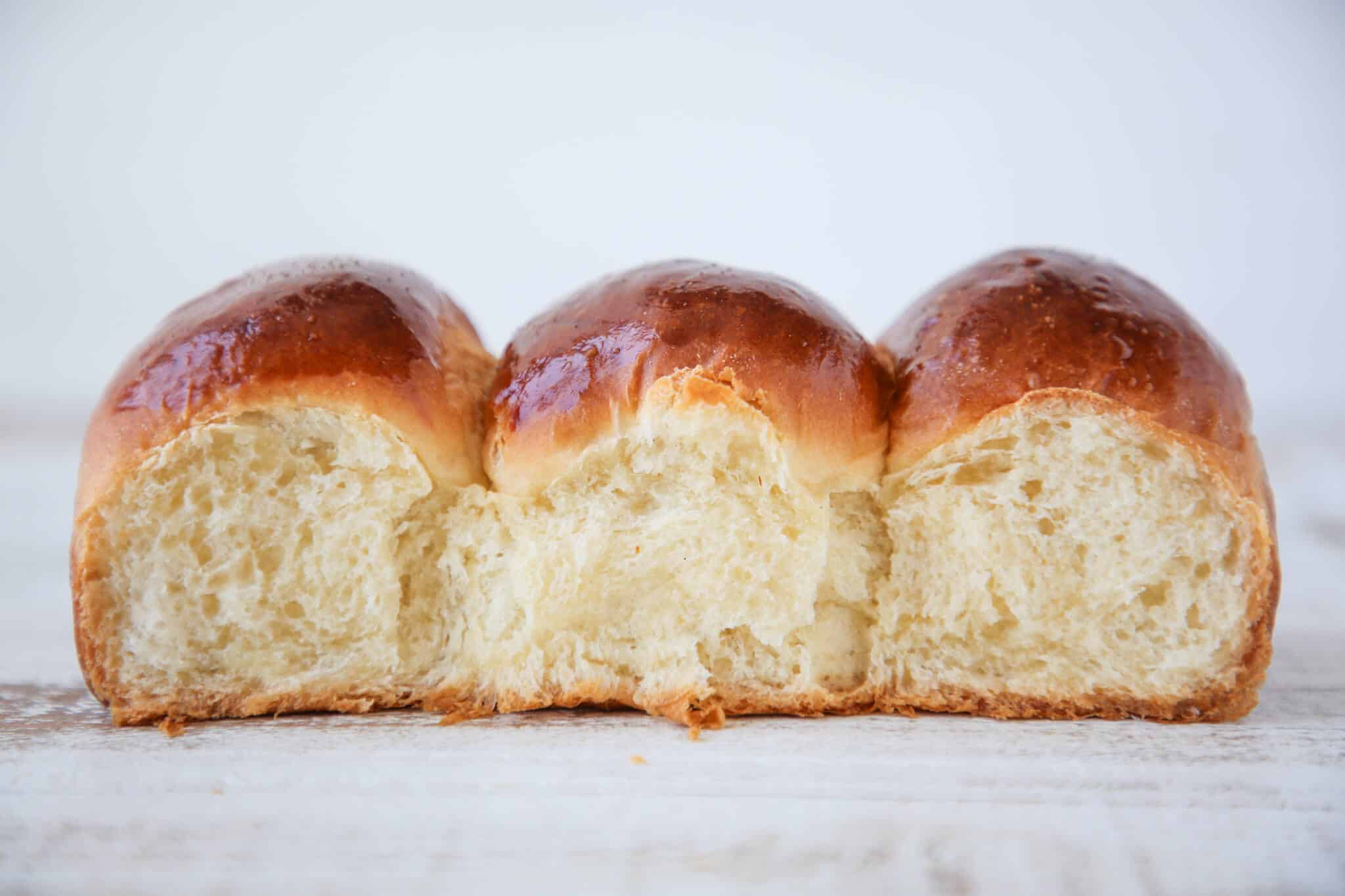 Recipe
Easy Dinner Rolls
These Easy Dinner Rolls are soft, tender and slightly buttery! With these step by step instructions, making perfect dinner rolls will be so easy you'll want them every night!
Ingredients
Sponge:
2 ¼

teaspoons

Dry Active Yeast

226

g

Whole milk

(100°F)

60

g

Water

(100°F)

1

tablespoon

Sugar

154

g

All Purpose Flour
Instructions
Make the Sponge:
Heat the milk and water to around 95-100°F in a pot or the microwave.

In a medium bowl combine all the ingredients for the sponge and mix with your hands. You can mix with a spoon but it is so wet that it will be more difficult.

Cover with plastic wrap and set in a warm spot until visibly bubbly. It should take about 20 minutes.
Mix the Dough:
I usually scale the remaining ingredients while the sponge is sitting.

In the bowl of a stand mixer add the flour, remaining sugar, salt, butter, egg and sponge.

Mix on low speed with the paddle attachment until combined.

Switch to the dough hook and mix on medium speed until a rough window pane can be pulled. This means the dough will not look perfectly smooth but will have pulled together and made one cohesive dough around the hook. Pinch off a piece and gently pull the sides apart, rotate and pull again, making a square shape. The dough should not tear; you should be able to see through some of the dough like a window pane but then there will be pieces of dough that look rough. This is what you want.

Scrape the dough into a well-oiled bowl, cover with plastic wrap and allow to proof for 30 minutes in a warm place. Fold the dough by grabbing one side, pull it upwards out of the bowl and then fold it over ⅓ of the dough. Rotate the bowl 180 degrees and repeat with the opposite side. Rotate a quarter turn and repeat the same folding technique. Rotate the bowl 180 degrees and make the final fold. You should have a nice tight square packet of dough.

Marvel at your skills. Cover with plastic wrap and allow to double. Mine took about an additional 30 minutes.

While the is finishing its bulk proof, grease a 9 x 13 inch baking dish with cooking spray or butter.

When the dough has doubled and feels light and aery when touched, turn it out onto an un-floured surface. It is soft, supple and not sticky!

Divide into 12 equal portions. You can eyeball this or weigh them. They should be about 87g each. Place each about equidistant apart in the prepared dish.

Cover with plastic wrap and place back in the warm spot to double. This took about 30 minutes for mine.

Preheat the oven to 350°F

When the buns are ready to bake (doubled and light and airy), brush with beaten egg.

Bake in preheated oven for 20-22 minutes or until an instant read thermometer reads 185°F when inserted into the center of one of the middle buns. If you don't have a thermometer, you can insert a cake tester or toothpick into the center and it should come out with clinging crumbs but no streaks of dough!

Brush the hot buns with melted butter to emulate my shiny, enticing tops!

Technically they should cool, but who has the patience? I say dig right on in.
Video Instructions
Notes
Yield: 12 Rolls
They are best eaten the day they are made but can be reheated in a warm oven the next day.