These easy No Bake Samoa Peanut Butter Cereal bars combine the beloved caramel, chocolate and coconut flavors of Samoa Girl Scout cookies with peanut butter!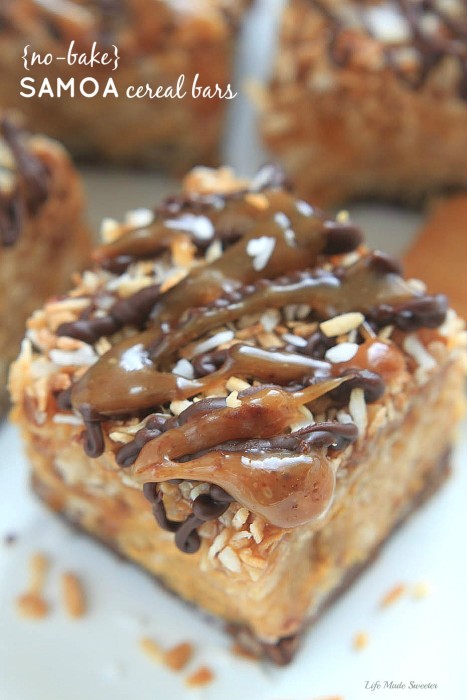 Today I bring you an extra special treat.
No, not just these bars, but Kelly from Life Made Sweeter!! Kelly has been brightening my life with her delightfully easy, down-to-Earth recipes for over a year now. She is a mother of two and quite possibly the sweetest person EVER. The meals and treats she dreams up are nothing short of spectacular!!!
In addition to delectable sweets and easy meals (often with Asian flair), Kelly is the Grand Master of the Slow Cooker. Each and every slow cooker recipe she posts looks even more scrumptious than the last. I actually bought a slow cooker in NYC just to make her Slow Cooker Sriracha Chili Chicken and I've added her most recent post to the list. She has slow cooker recipes for breakfast, slow cooker lo mein (noodles in the slow cooker?!), and even slow cooker meatloaf!
But I'll stop going on and on about Kelly so that we can talk about these Samoa Peanut Butter Bars!!! Because they look phenomenal!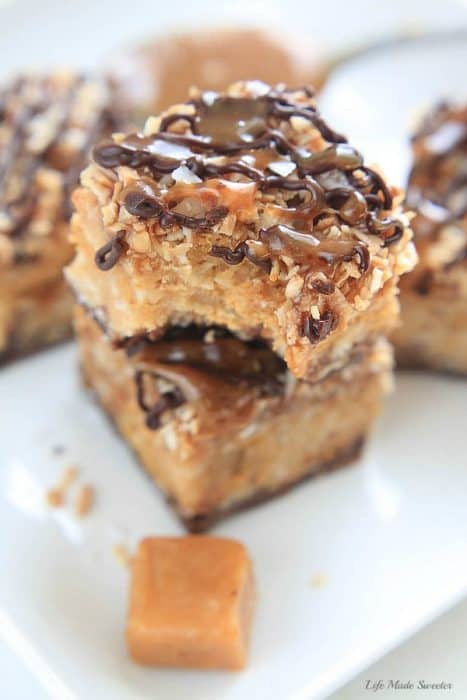 Hi everyone, I'm Kelly from Life Made Sweeter and I am so honored to be guest posting here for Lindsey today while she is hard at work learning at culinary school.
Lindsey is not only the sweetest person but she is also such a talented baker who comes up with the most amazing cupcake combinations and treats! I am always in awe of her creativity and can only imagine the incredible creations she will be making once she'e finished school.
Since Lindsey specializes in desserts with a twist, I thought it would be fun to share these No-Bake Samoa Peanut Butter Cereal Bars with you guys today.
I'm sure after a long day at school baking, the last thing Lindsey wants to do when she comes home is turn on the oven. These chewy bars are perfect when she needs a decadent and satisfying treat because they're no-bake and easy to whip up.
The base of the bars is a combination of rice cereal, honey graham cereal and creamy peanut butter. The topping is a layer of toasted coconut, caramel sauce and chocolate ganache. The bottom of the bars are also dipped in chocolate ganache just like the girl scout cookie.