12 Days of Christmas Cookies
Moravian Christmas Cookies are paper-thin, crispy, spiced molasses cookies. Sweet and gingery, they taste a bit like gingerbread but are waaaay more addicting!
Let me boil down my college experience for you. At Wake Forest I learned a lot about math and French, a little about everything else including keg stands (I know. College. Insert rolling eye emoticon here…), and that Moravian Christmas Cookies (MCC) are the things that sweet dreams are made of.
Wake Forest is located in the booming metropolis of Winston-Salem, North Carolina. 😉 And while it is best known for Krispy Kreme…oh you didn't know the first Krispy Kreme was in Winston-Salem? You thought it was started somewhere hip and trendy like Charlotte? Nope. Fun fact Tuesday.
Anyways…the town was originally settled by Moravians who are long gone but their delectable wafer-thin spice cookies live on.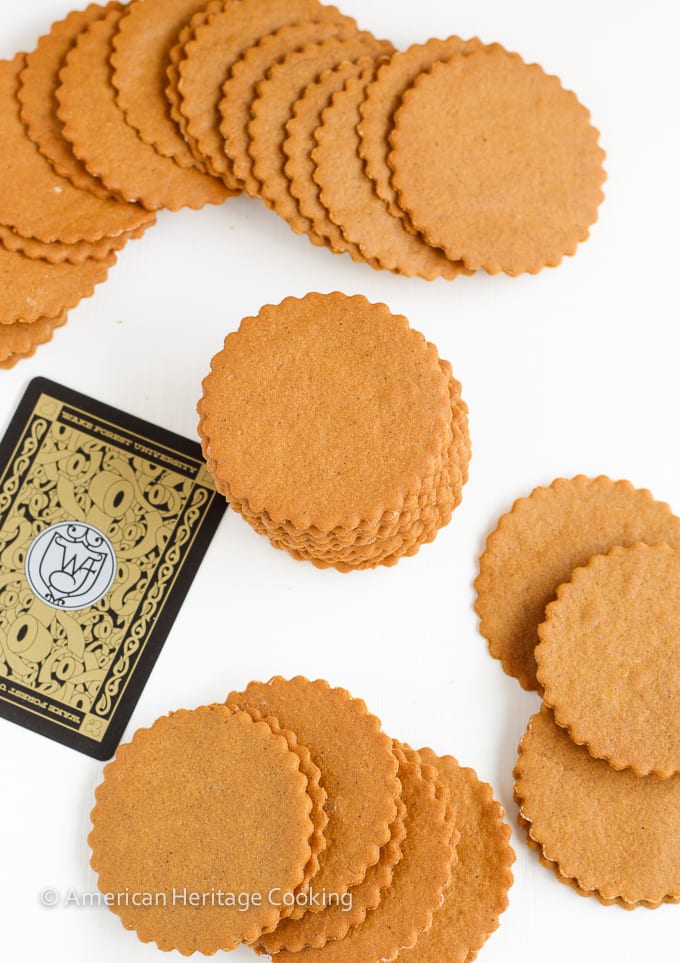 I didn't even like crispy cookies before college. If I even spotted a hint of brown edges, I was moving on. Next!
But MCCs stole my heart before I even had a chance to say no.
My parent's friends gave me a "Welcome to Winston" care package and inside was Moravian sugar and Christmas cookies. I initially eyed the paper-thin, crispy cookies with disdain and set them aside, but I don't need to tell you that school food is lack-luster at best. I won't even tell you what I ate everyday for lunch for 4 years straight. It's embarrassing. And, no, it wasn't fried. #healthyeating #moreroomforcookies
It wasn't long before I was opening that box of Moravian Christmas Cookies.
These cookies come in sleeves like Thin Mints. And like Thin Mints, I consider it a personal challenge not to eat the entire sleeve in one sitting.
Capital "A" addicting!
There should probably be a warning label of sorts.
If you love gingersnaps, gingerbread or any variation of sugar molasses cookies then you will adore Moravian Christmas Cookies. Adore.