This Vanilla Bean Swiss Meringue Buttercream is silky, creamy and lightly sweetened! You will love the delicate texture; so soft it melts in your mouth! With the vanilla bean paste it almost tastes like vanilla ice cream!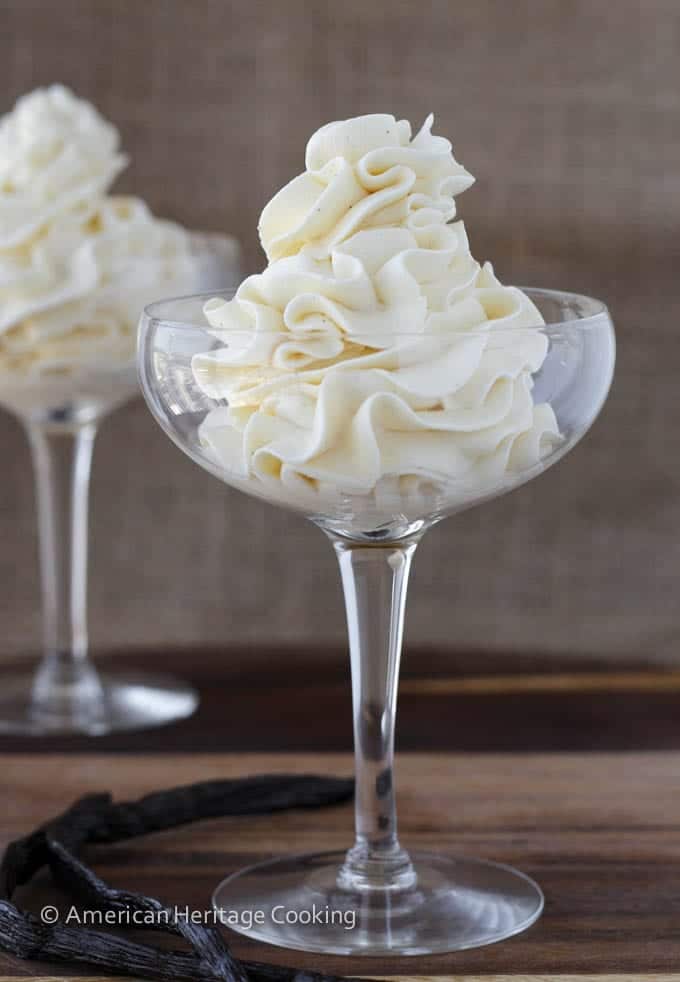 Swiss Meringue Buttercream has been on my culinary bucketlist for months now, because someone told me it was difficult. Well, I don't know about you, but to me that sounded like a challenge and I don't like to back down to challenges! A nice flavorful Vanilla Bean Swiss Meringue Buttercream seemed like an excellent place to start!
Swiss Meringue Buttercream is a gift from the culinary gods! It is sweet but not overly sweet like American Buttercreams can be and it is so light that it practically melts in your mouth. Its silky, creamy texture is unparalleled. Both the Husband and I were very impressed!
The texture and delicate sweetness allow other flavors to shine. This Vanilla Bean SMB is bursting with vanilla flavor. It almost tastes like French Vanilla Ice Cream. Magical.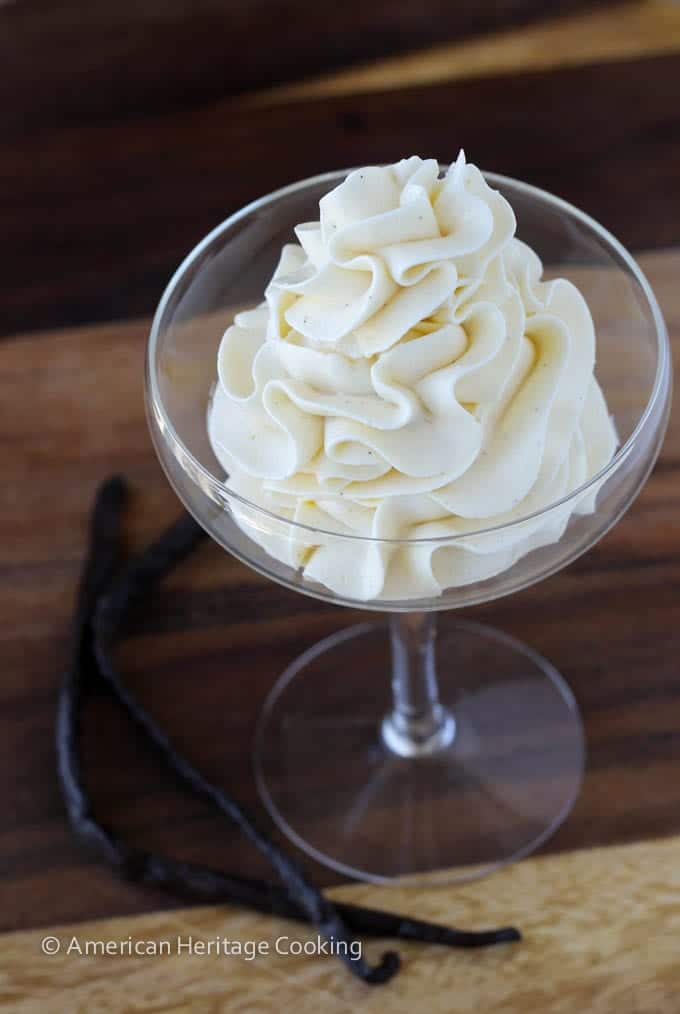 It pipes beautifully and it holds up well at room temperature. I actually think it tastes best at room temperature or just slightly cool. When it is cold it gets too hard and you won't be able to experience the unique silky texture and that would be sad. Speaking of sad…
I have made SMB 6 times in the past 2 weeks. In the making of these Chocolate Cherry Cupcakes and another cupcake recipe I have yet to post, I managed to ruin 4 beautiful batches of SMB by adding fresh cherry or strawberry-lemon zest puree…there were tears and few expletives thrown around in my kitchen that week. I loathe waste. Especially something so silky and beautiful as a Swiss Meringue Buttercream. Sadness.

So, needless to say, I've learned a few things about SMB. I think this bad reputation is undeserved. It is temperamental, but it isn't as difficult as others make it out to be. I found that most mistakes or missteps could be rectified with a little patience. I also learned what couldn't be remedied. All of which I will share with you below because I want your next SMB to be a success!
On another note, I don't know about you but I get stressed out by recipes that call for either egg yolks or whites because then I feel pressured to make something else using up the leftovers! I cannot even tell you how many egg whites I have in the freezer. But now that I have an ice cream maker, I just get really excited because leftover egg yolks means ICE CREAM!!!! Woo hoo! This recipe for SMB calls for 5 egg whites and you need 5 egg yolks for this Toasted Marshmallow S'mores Ice cream! Happy accident!
And if you accidentally break a yolk and need to use a 6th egg, you should get super excited because you can make The BEST Chocolate Ice Cream ever!
I'll let you in on a little secret, you can make that same ice cream using 5 egg yolks but it won't be quite as thick or rich. But it will still taste like a little (or big) scoop of heaven.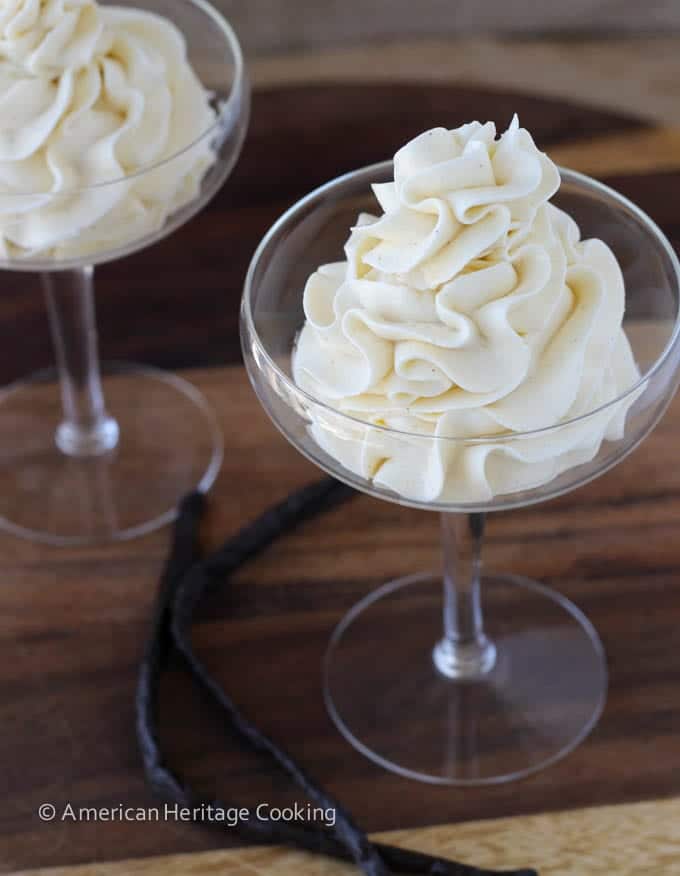 This Vanilla Bean Swiss Meringue Buttercream is the topping for one of my favorite cupcakes that I have ever made or tried, so get excited and stay tuned!
A few pointers for making Swiss Meringue Buttercream in Confidence:
Make sure your bowl and whisk attachment are clean. No stray oils or fat. None. You can wipe down your equipment with lemon juice but I find that superfluous.
There is a bit of delicate timing involved, so I take my cubed butter out of the refrigerator when I start separating my egg whites. It warms up to the right temperature by the time I am ready to start incorporating it into the meringue.
Separate your eggs when they are cold! This tip is useful for any recipe, really. Egg whites separate easier when cold and whip up better when warm. #funfact
No stray egg yolks! I separate mine in small bowl one at a time and then transfer each egg white individually to the mixing bowl to avoid any contamination. That way if the 4th egg yolk breaks (even just a little bit), I don't have to start all over. Crisis averted.
Your mixing bowl must be a neutral temperature and not warm when you start adding the butter or your butter will just melt.
Your frosting might curdle when adding or after you have added the butter. That's okay. Just continue mixing until it comes back together. It just means your butter was too cold when you added it. Patience, it will work.

Your butter will not incorporate faster if you beat it in on a higher speed.

When you switch to the paddle attachment to start adding the butter, your mixer must be on the lowest setting possible!! Your mixture will curdle if it is any higher and it will not reincorporate unless it is on LOW. I learned this the hard way…several times. No biggie, it came back together once I switched it back to low. Yours will too.
If your buttercream looks almost perfect and you are just mixing it to get out a few straggling butter lumps and your SMB curdles, just continue mixing until it comes back together. Patience, it will work.
If your SMB is too runny when it becomes silky and smooth, refrigerate it for 15 minutes and then continue to mix on low.
Keep at room temperature until ready to use. If you put it in the refrigerator it will harden and not be pipe-able and then it will separate and you will be sad. I can empathize, really. Yes, I did this too.
You can store SMB in the refrigerator or freezer, but you must let it come to room temperature BEFORE you remix it in a mixer with the paddle attachment or it will separate into a curdled, weepy semi-liquid. This is one of those irreparable situations. Sadness will ensue. Been there.
You can add too much fruit puree. Start with ¼ cup and go from there. Pureed preserves are a safer option because they aren't as liquidy. I also ruined an SMB by adding strawberry puree with lemon zest. I do these things so that you don't have to!
You can get more helpful tips here
You've totally got this!
Vanilla Bean Swiss Meringue Buttercream
This Vanilla Bean Swiss Meringue Buttercream is silky, creamy and lightly sweetened! You will love the delicate texture; so soft it melts in your mouth! With the vanilla bean paste it almost tastes like vanilla ice cream!
Ingredients
5

large egg whites

(carefully separated)

1 ¼

cups

sugar

1 ½

cups

340 g unsalted butter, cut into cubes, cool but not cold

2

teaspoons

pure vanilla extract

1 ½

teaspoons

vanilla bean paste

pinch

kosher salt
Instructions
Take your cubed butter from the refrigerator and set it on the counter away from any direct source of heat.

Place a saucepan with about an inch of water in the bottom over medium-high heat until it comes to a simmer; then turn it down to low to maintain that simmer.

Separate your egg whites from your egg yolks and add the whites to the bowl of a stand mixer.

Add the sugar to the egg whites and place the mixing bowl right over the simmering water. Gently whisk until the sugar has dissolved and the egg white/sugar mixture is hot; approximately 12 minutes. This cook time will depend on the heat of your water! Just watch it.

Secure the bowl into the base of your stand mixer fitted with the whisk attachment. Beat until the whites are smooth and glossy and the bowl is neutral to the touch. If your meringue is smooth and glossy before your bowl is cool, just keep whipping. I beat these on medium-high speed.

Once your bowl is neutral switch to the paddle attachment and set the mixer on the lowest setting possible. Slowly add your butter, one cube at a time, until it has all been added. Continue mixing on low until your butter has fully incorporated, there are no lumps, and the frosting is smooth and silky. If your buttercream curdles at any point, don't fret and definitely don't give up, just continue mixing on low until it comes back together. It will. Don't worry. All is not lost.

Add the vanilla extract and vanilla bean paste and mix on low just until it is incorporated and evenly distributed.

Place in a piping bag fitted with you favorite tip. If you intend to use it during the next several hours, keep the piping bag at room temperature.
Notes
Keep in an airtight container in the refrigerator for up to one week. Let it come to room temperature before remixing in a mixer for 5 minutes.
You can also freeze the frosting for 6-8 weeks, just thaw it on the counter overnight before remixing in a stand mixer.
Recipe from Sweetapolita
Yield: 5 cups SMB or enough to generously frost 2 dozen cupcakes
Did you make this recipe? I want to hear all about it! ?Tag me on Instagram @cheflindseyfarr and use the hashtag #americanheritagecooking
You May Also Like:
Double Chocolate Cupcakes with Cherry Mascarpone Frosting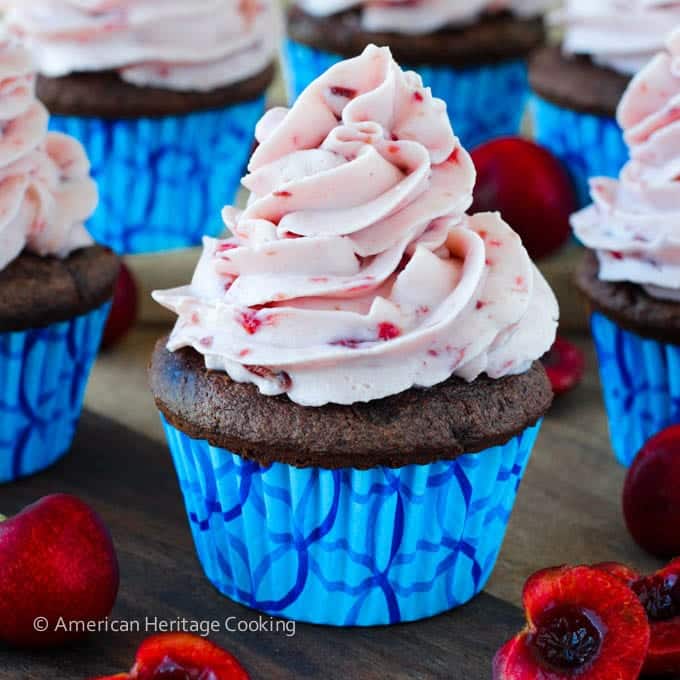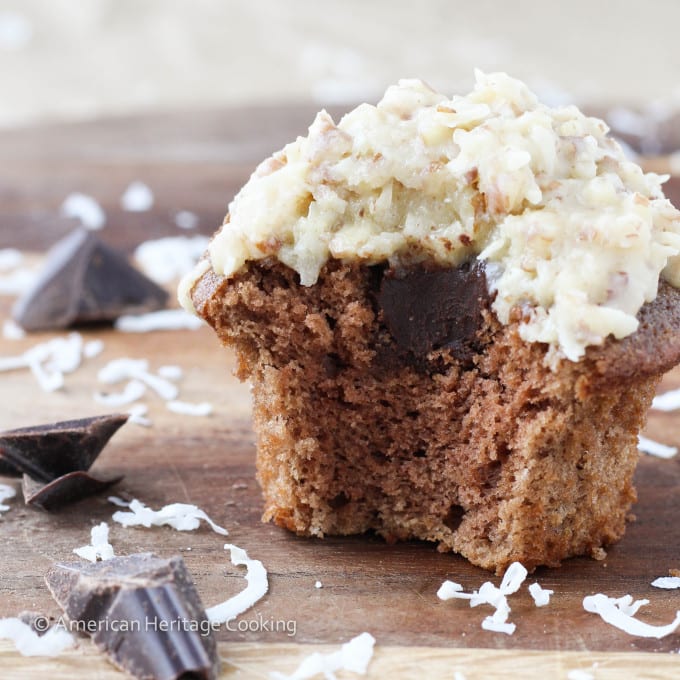 Copycat Sprinkles Triple Cinnamon Cupcakes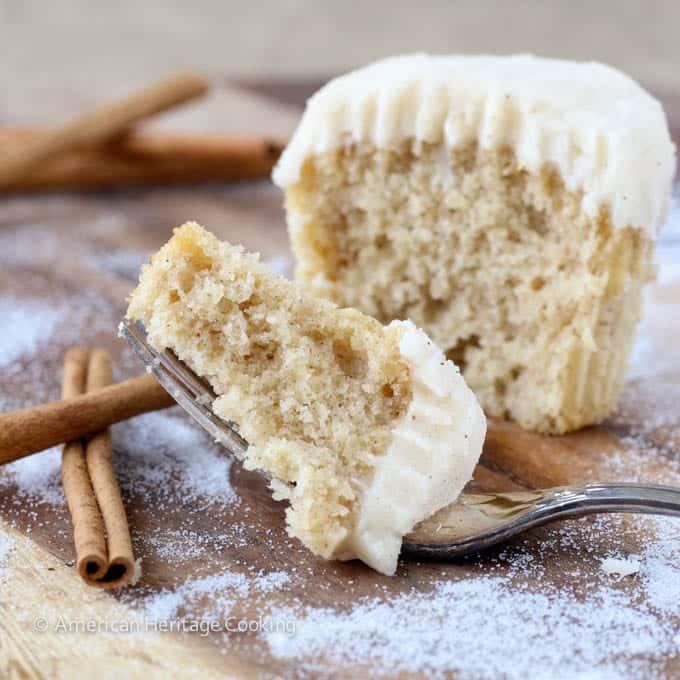 Copycat Sprinkles Vanilla Cupcakes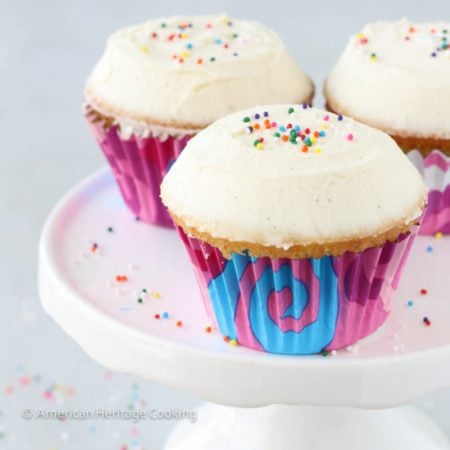 Peanut Butter Stuffed Double Chocolate Banana Cupcakes!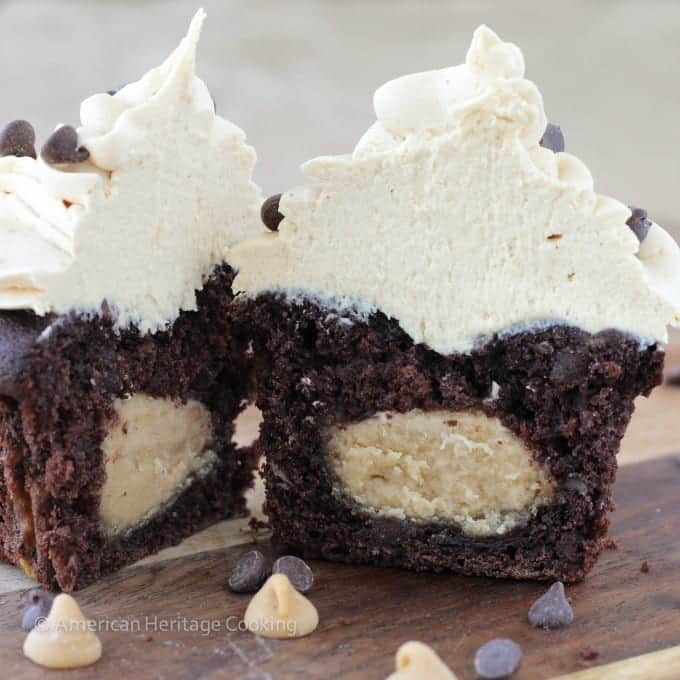 Double Salted Caramel Cupcakes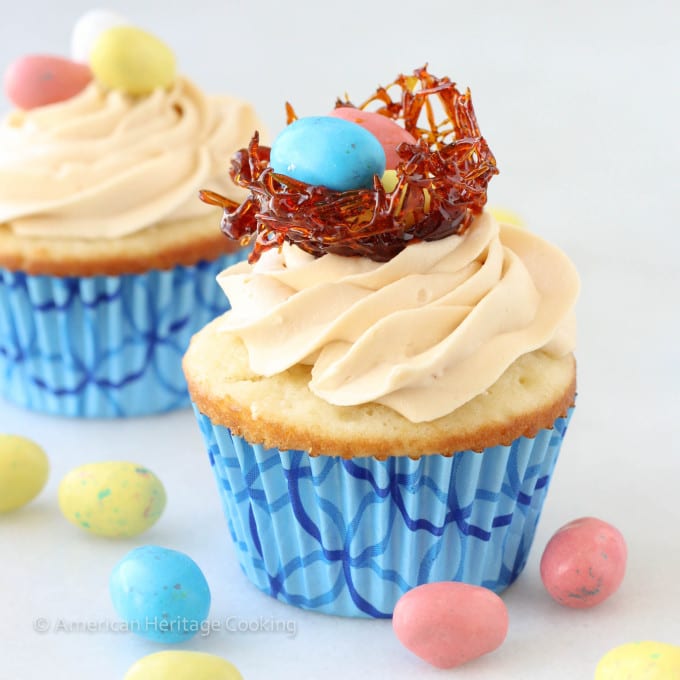 Guinness Chocolate Cupcakes with Bailey's Buttercream